Printing Resources &
Frequently Asked Questions
Use the links and information below to find out answers to common questions about printing books and print in general. We have lots of resources to offer insight on how to set up your artwork and files to produce exceptional results on our printing and book binding equipment
How to setup book covers for printing
How to Setup Covers for Soft Cover Perfect Bound Books
Use the guide pictured to setup your cover correctly. Remember, the terms we use as printers are as follows:
C1 – front cover
c2 – inside front cover
C3 – inside back cover
C4 – back cover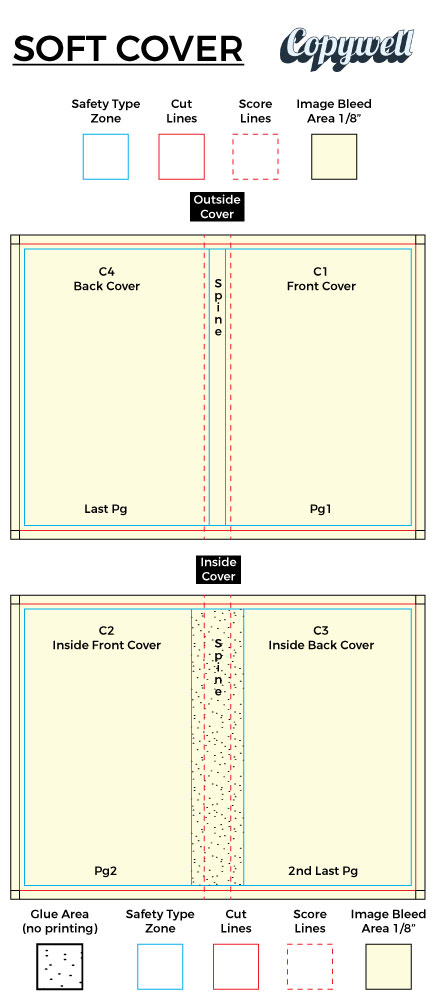 How to Setup Covers for Hard Cover Case Bound Books
What's the spine size for my book?
When you receive a quote for a book that has a printable spine, we'll let you know what the measurement is so you can format your artwork accordingly.
Can you send me a template?
Absolutely, just get in touch with us and we'll send you a template for whatever you're looking to print.
How to setup book interiors for printing
How to setup interiors for books
Please supply all interiors for any book you're printing with us as single page PDFs.
Please do not supply spreads, we will handle the imposition based on our printing style.
Colour space questions & image quality
What colour settings are best for printing on your presses?
We recommend CMYK for best results.
What's the best colour setting to use for rich black or solid black?
For our presses, use 100% K and make sure you're working in a CMYK colour space.
Bleed settings for printing
How much bleed do you recommend?
We recommend using 1/8″ bleed for all edges that require it.
Paper samples and paper options
What types of paper can I choose from?
There's a long list of papers we can print on our presses, here's the short list and the most popular options that we stock on our floor:
Text Weights in offset: 35 lb, 40 lb, 50 lb, 60 lb, 70 lb, 80 lb, 100 lb
Text Weights in coated gloss and silk: 80 lb, 100 lb
Cover Weights in offset: 65 lb, 80 lb, 100 lb, 130 lb
Cover Weights in coated gloss and silk: 80 lb, 100 lb, 120 lb, 130 lb
What file types do you accept?
We prefer PDF, but you can supply Word documents or any other type.
Shipping orders and rush jobs
Do you drop ship?
Yes we do! We can handle your book fulfillment too. You can ask for blind ship or drop ship, from standard to next day delivery.
Do you do rush jobs? Is there an extra charge?
We definitely do rush jobs, and sometimes there may be an extra charge.
Self publishing questions
Do you help with ISBN numbers?
We don't assist in obtaining ISBN numbers, but if you Google "How to get an ISBN number" you'll see the process is easy and can be done all online.
Do you offer self publishing services?
Book Samples
---
It's possible to produce a sample of your book and in some cases we even recommend it.  Sometimes a hard copy is not easily produceable due to  availability of materials or setup costs involved. In this case, we can substitute other materials to create a similar book for "look and feel".
We can always send you samples of past work, free of charge. Just provide the shipping address.
The costs to produce samples are as follows:
Bound proofs – $250 | Unbound proofs – $125
these costs are non refundable
Hard Copy Proofs Before Production
No charge, but we will require full payment on the order total before starting. This means you must have an order confirmation/docket in production
Coatings & Laminates Not Included in Samples
Extra charges may apply if laminate is required or coatings (we can offer past job samples instead, free of charge)
Ready to get started?
Just fill in your email and a team member will reach out to discover more about your needs.