"Can You Make The Colours Pop A Little More?"
Graphic Design Services
As printer's we're privileged to see various forms of graphic design come through our presses and offices daily, from leading graphic design firms, hobbyists, amateurs and all kinds of marketing professionals who need to print something. We've learned a thing or two about the fine art of graphic design, and our team of graphic designers is always willing to lend a hand, spot a problem, correct margins and ensure your printed material is exactly as it should be. A lot of times we spot potential errors given our extensive experience in what to look for in files supplied.
Our team of graphic designers are professionals in all Adobe Creative suite software packages. We know what works, and how to create effective designs that generate results. Whether you're looking for a quick flyer for an event, last minute tickets, or a book cover to showcase your masterpieces, we're capable of getting the job done in less time than you probably expect. Trust our graphic design team to produce your vision clearly, effectively, and at competitive rates starting at just $65 per hour.
Digital collateral goes hand in hand with graphic design in today's landscape. You need to be online if your in print, which is why our graphic design team uses best practice in printing designs to easily transfer to online branding to create consistently across brands, messages and platforms for marketing collateral. We can create custom websites, applications, and even deliver totally customized software to suit your business needs. Some of our best work can be seen on this web page, as it was totally designed, coded, illustrated and copy-written by our team of in house graphic designers.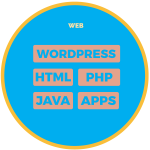 Ready to Get Started?
Get in touch or check our some frequently asked questions.