With Copywell's team of experts,
your next hardcover book printing project is in good hands
Hardcover books are the most durable option in bookbinding with the highest  production cost and perceived value in the market
Get Pricing – Hardcover Perfect Case Bound Books
Use the form below to get a printing price for your hardcover book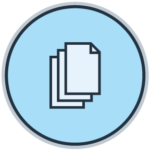 The images below illustrate the parts of a hardcover book
In order to help artists and authors understand the elements involved and areas that can be customized in printing, the guide below will illustrate all the components and parts of a hardcover book.
You can reference the parts shown below when speaking with our team members about your hardcover book project. Copywell's expert staff are hardcover book specialists that will help guide you through the design and printing process. You can ask our team member's anything about a hardcover book and gain insight and ideas that will spark your creativity and let you distinguish your books from others.